Luba Lukova: Action/Reaction at Qbox Gallery, Athens, Greece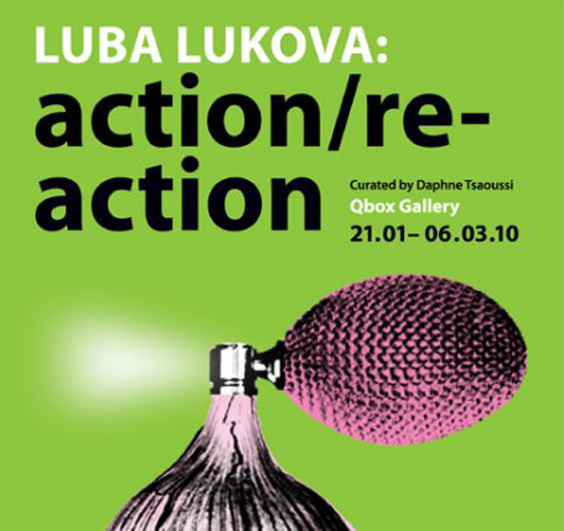 Qbox Gallery is pleased to announce Action/Reaction, Luba Lukova's first solo exhibition in Greece.
In her introduction, curator Daphne Tsaoussi writes: "Lukova's art is immediately accessible and impossible to ignore. It does not merely build channels of communication; it attacks the senses on the most basic human level, but transcends that level through its cleverness with imagery and humor. In effect, between perceptions that trouble us and actions we hesitate about, tension emerges. Our commitment here is her proposal in synergy to overcome the limits of our perceptual boundaries."
Lukova's solo exhibitions have been held at UNESCO, Paris; DDD Gallery, Osaka, Japan; La MaMa, New York; and The Art Institute of Boston. Her many awards include Grand Prix Savignac at the International Poster Salon, Paris, France; the Golden Pencil Award at One Club, New York; and Honor Laureate at the International Poster Exhibition in Fort Collins, CO. She has received commissions from The New York Times, Time, Adobe Systems, Sony Music, Canon, Harvard University, the Cultural Ministry of France, and the War Resisters League. Her evocative theatre posters have graced numerous stage productions in the U.S. and Europe. Lukova's work is included in the permanent collections of the Museum of Modern Art, New York; The Library of Congress, Washington, DC; Bibliothèque Nationale de France; and Centre de la Gravure et de l'Image Imprimée, La Louvière, Belgium. She is the author of Social Justice 2008, a critically acclaimed poster portfolio containing passionate visual reactions to many of the pressing issues of our time. Lukova holds an honorary degree of Doctor of Fine Arts from Lesley University, Cambridge, MA.
Opening Reception:
Thursday, January 21 at 8 pm
Gallery Hours:
Tuesday-Friday, 2-8 pm
Saturday, 12-4 pm, or by appointment