Tartakover's rejected poster / Narrow-minded people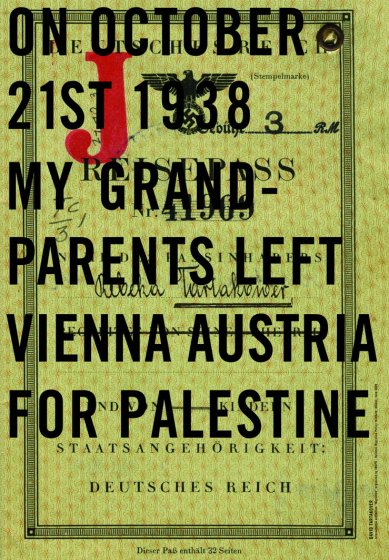 'Narrow-minded people'
A short while ago, artist David Tartakover was invited to submit an entry for a poster exhibit organized by the Hellenic Migration Policy Institute (IMEPO) in Athens, which is under the aegis of the Greek interior minister. Tartakover, an Israel Prize laureate, blew up the first page of his grandfather's passport and printed the following words on it, in English: "On October 21, 1938, my grandparents left Vienna, Austria, for Palestine." Austria had been annexed to Nazi Germany a few months earlier. The passports of David and Rebeka Tartakover bore the swastika and the letter "J," in red, identifying them as Jews.
IMEPO was very impressed with the poster, but refused to display it. The institute's president, Alexander Zavos, expressed his regret and wrote to Tartakover in the following letter: "I am afraid we live in a country that is in a socially critical situation right now and there are tensions everywhere. There are street riots, there is instability and we're afraid of reactions. Any reference to Palestine, for example, or the Holocaust, we are very much afraid would spark reactions that would harm the exhibition and the organization itself. You know, there are narrow-minded people that are seeking excuses for trouble. For example, we have many immigrants from Palestine, and they could misinterpret your message and bring us in a difficult position. Being a governmental organization, we are supervised by the minister of interior, thus we have to be very careful when it comes to decisions like this."
Tartakover submitted an alternative poster. He distributed his original entry as a postcard to exhibition visitors, with Zavos' letter printed on its reverse side.
http://www.posterpage.ch/div/news09/n090708.htm
-----------------
στα ελληνικά από Νάσσο Κ
ο Tartakover όμως λογοκρίθηκε.
Στην αφίσα του, πήρε το εξωφύλλου του διαβατηρίου του παππού του και τύπωσε το παρακάτω στα Αγγλικά: «On October 21, 1938, my grandparents left Vienna, Austria, for Palestine». Η Αυστρία προσαρτήθηκε στη Ναζιστική Γερμανία λίγους μήνες αργότερα. Τα διαβατήρια των David και Rebeka Tartakover φέρουν τη σβάστικα και το γράμμα "J", με κόκκινο, κάτι που τους χαρακτηρίζει Ευραίους.
Το ΙΜΕΠΟ εντυπωσιάστηκε με την αφίσα, αλλά αρνήθηκε να το προβάλει.